There are many glowing recommendations for Amy's style of education that I'd be happy to make, in person. Feel free to ask her for my contact information. If I had to pick the most meaningful one that really leads to everything else: it would be that Amy's knowledge and experience mean that none of her personal horses are over-tacked, strapped and winched into submission before you can put a strange rider on them, and none of her Riders are cowed, intimidated or submitted either. You can become any kind of rider you can imagine, if you start off in an environment like this. Come see!
Jennifer Staub
"Summers Destiny"
Our story…..
I am lucky enough to say that I have been here since the beginning. When it all began. When I first came to Amy's facility, it was still in the makings. I saw the hard work she and Craig did day and night to make it ready for someone (not me) who needed to move her horses in a big hurry. The barn wasn't quite ready for six more horses, but Amy and Craig worked hard day and night to make it work. Putting in stalls, fencing, turnouts, a bathroom, buying feed, shavings, buckets you name it they got it all for these horses they didn't even know. Needless to say they did all this and maintained the care and feeding of all their horses as well during the cold and rain because it was still winter.
During this time I got to know Amy and her family. I saw the respect and care she took of her horses and all the horses being boarded there. At the time there was, I think, fifteen altogether. She took care of them as they were her own her children. This to me was very amazing. She also has a fulltime job on top of it all. I kept thinking is this wonder woman?
Each day I spent there I got to know Amy more and more. She would ask me why I didn't have a horse of my own and why I was leasing. Under the circumstances at the time, I just couldn't afford and never thought I could ever afford one. Well, one day Amy came to me and said that she had made a breakdown of the costs of a horse. So I took it home and showed it to my husband. We looked at it and kept it in our minds. During this time the trainer with whom I had come and had followed to many other barns couldn't make ends meet again and had to leave once again. So, do I continue to be a follower or stay and become a horse owner? Being in my forties with absolutely no horse experience but clinging on to the backs of my friends horses as a kid, was all I had. I had just been a little girl with big dreams to own one of my own. Could I do this? I went home and talked with my husband and he said to take a chance and follow my dream…
So I talked with Amy. She said she would help me find a horse and would teach me how to care for one. So we set out and looked for horses. My journey had begun. That's when I found Summer… my precious baby. We found her at a horse rescue. She was among a herd of around twenty or so. How do you choose from that many? Well, that was easy. She chose me. The owner of the rescue, Cindy, said, "Summer doesn't care much for people. She might not be the right one for you." Well, we walked right up to her, scratched her a bit and she seemed very sweet. When the other horses started to come up to us she started to walk away but watched at a distance. She had no confidence and was pretty low on the totem pole. She stood there in the trees at the top of the hill with her big brown eyes and said, "Please... please take me home." She had this look. A pose she does and those of you who know her know what I mean. Well, she had my heart from that moment on. The next weekend we came back to get her.
Well, getting a horse from a rescue means you don't know their history and how much training they have. She had no training at all. Let alone was gaited and didn't canter. She couldn't walk a straight line, let me pick up feet or want to take a bit. My heart sank… but Amy said that's ok I will help you. I was an advanced beginner with not much riding experience let alone training experience. But with the help of Amy she taught me how to start her from the beginning. See Amy teaches you with confidence. You can move a mountain no matter how small you are. Amy teaches you to see the positive in every day. She says even if you have a horrible day pick out three good things about your ride and think of those things no matter how small it is. Think of those things, nothing else. It worked even if I was so mad or just about in tears. I kept faith and picked out the three good things and stayed positive. And I loved my horse at the end of every day. I still do this every ride and I still love my horse more than ever.
It has been a year now and Summer and I have been in a newspaper, the Lebanon Strawberry Parade, to the beach, and trail riding. She goes through just about any obstacle; car washes, bridges, tarps, balloons, water, you name it she does it. She canters and she is lead horse on a trail ride and is boss mare in a herd. Summer is known as the princess in the barn. She thinks she is anyway. Ha ha ha She found confidence as well as me. We would like to thank Amy for all she has done for us. She truly has been my guardian angel as well as Summer's. I trust her completely and would have never made my journey without her. She taught us both we can move mountains. Amy makes dreams come true for horses and people… She is truly a gift from god…. I call her my angel…
Sheila and "Miss Summer"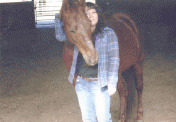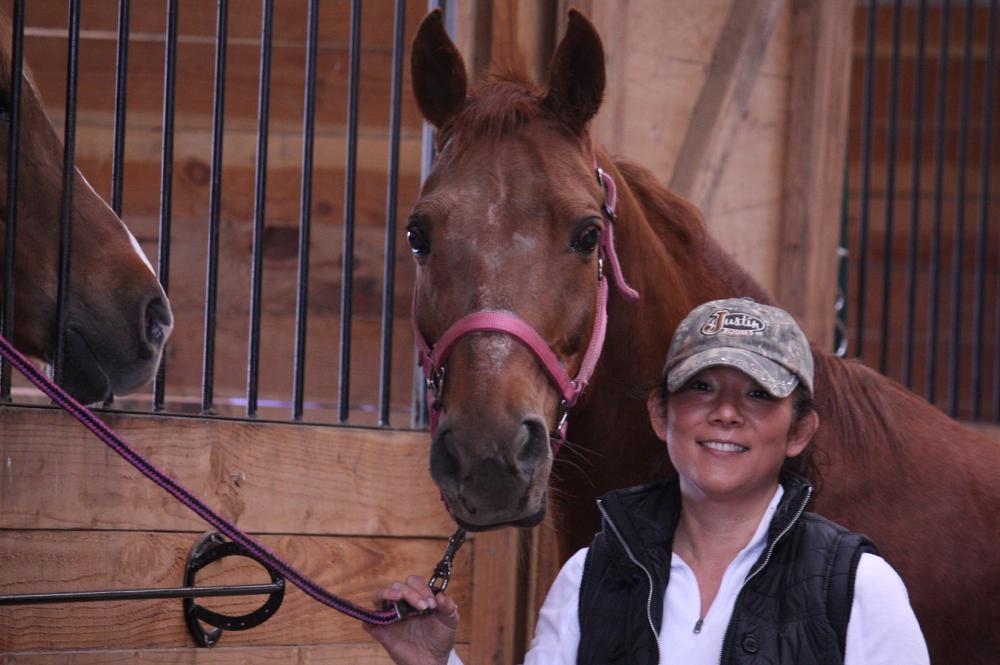 It is hard to know where to start as there are so many good things to say about Amy and the Vogt Family. So, I will give you our rundown. My daughter Kelly was doing occasional lessons with another friend of hers at a different barn. The lessons were expensive and were group lessons. After being there for a while we realized that we were really just paying for our daughter to go ride a horse for a couple hours. They did learn the basics but over and over again. Anytime a new person joined the group they had to start all over again and it got very frustrating plus expensive. One day I was talking with the parents of Kelly's friend who also rode at this barn on a weekly basis and they said they were going to switch their daughter over to a new place (Amy's) and it would be one on one lessons and she could learn what she wanted. I was very excited and hoped that maybe Kelly could follow her over. Well we got lucky and Amy's contact information was shared with me and I made the phone call.
My daughter Kelly started taking lessons from Amy in December of 2009. I couldn't have been happier. We made an appointment with Amy for Kelly to go over and show her how she rode and what she knew about horses. We were both nervous going over to a new place, but I immediately felt at home after meeting Amy & Craig that day. The lessons were half the price of the group ones that Kelly was doing at the other barn which was great plus it was also going to be one on one lessons instead of group lessons. So, Kelly was able to start having a weekly lesson instead of just on occasion when we could afford it. Not only is Amy affordable but she is very knowledgeable. The amount of things Amy does with the kids outside of their lessons are amazing, you can pretty much do just about anything you want. Kelly competed in her first horse show at the end of the summer and it was an amazing experience. There are so many wonderful things I could say about Amy and her family, so if you would like a personal reference feel free to have Amy give you my phone number I would be happy to give her the praise she so greatly deserves. Kelly has always dreamed of having her own horse and one day she might but right now Amy is fulfilling her horse dreams and giving her the knowledge that she will need to make it a reality one day.
Thanks for everything Amy you're the greatest!
Marianne Clever (Kelly's Mom)
***************************************
Amy Vogt has been my instructor for almost a year and she has been nothing but helpful and kind to me. She teaches me just about whatever I want to learn. She lets me come over on the weekend and lets me ride for practice. She even lets me show one of her horses and takes me too them also. I can't believe how much she's done for me. She is amazing!!!
Kelly :o) (Age: 11)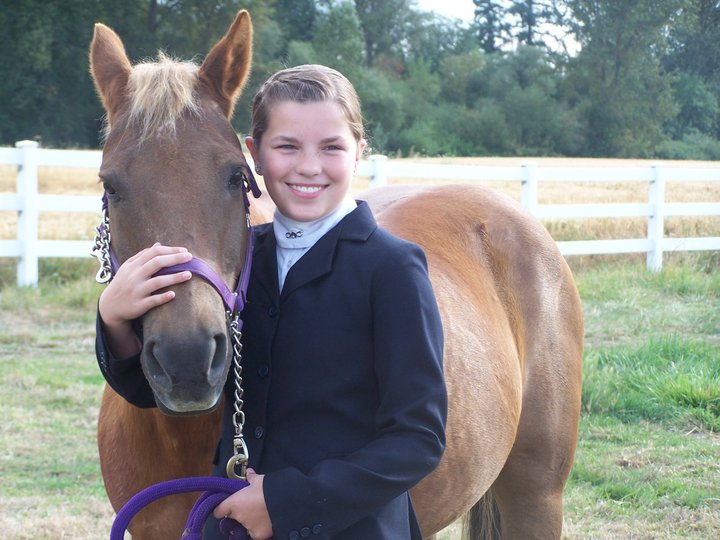 DIAMONDS IN THE ROUGH
Well it's been almost 3 years now and I can't believe how times flies when you're having fun!! I would just like to thank you Amy again for all you have taught me and are still teaching me every day. Summer and I just passed another milestone this weekend and it went great!! I think of summer and I as diamonds in the rough, but now I can now say summer is the diamond out of the rough. We took our first trail ride without you there and it went GREAT!!! It's kinda funny how much a person counts on their trainer for support and confidence knowing they will walk you through anything that can happen. But when you are on your own you have to trust yourself and everything that have learned and hope it all comes back to you. Well it did and I heard your little voice come to me "breath Sheila" "make her slow down with a half halt " "Bend her when she is pulling on you don't let her do that or do a one reign stop to make her stop" LOL so it sticks with me and I can hear your voice even when you are not with me and I don't have to panic. Thank you!!
It was such a beautiful sunny day the first thing we did was summer went right over a big log with no hesitation so I knew it was gonna be a good day. lol With summer always being lead I had to talk her through the first bridge and after that we went over lots of bridges and streams with no hesitation, under branches that Marcus would've never been able to go under because they were so low. Summer went nice and slow and didn't take my head off because of being nervous because we worked on this last summer on the trail course. We met up with a turkey in the path with no spook she tucked her butt a little because it startled her and she did a little hop and stopped. We went down a slippery muddy trail down the backside of a hill with slowness and grace. Lol If I hadn't been able to work on your new trail course over and over through the mud last summer it wouldn't of been so pretty. But because I knew it's just their instinct of survival to rush though mud because of the sinking feeling I knew to calm her down to go slow. But none of these things let us get the least bit scared or nervous because we have worked on all these things before and I knew exactly what to do because of you. Thank you!!
I just have to say your barn and your techniques of training are very helpful to a horse owner and horse, especially a green horse with everything your barn has to offer with all the wild life and trails nearby, the trail course and all the little things you have in the barn, car wash, bridge, tarps, gates, basically anything to help us get ready for anything that can happen. We can work on trailering, riding near cars, trains, tractors, sprinklers anything that can come up when you are outside in an open area and have to deal with. And it can be an ugly situation if you don't stay calm and focused for both you and your horse. It's just amazing how much a horse feeds off of your fear and anxiety and if you stay calm they will.
So anyways thank you for all you have taught me and summer and because of you we had a great fun trail ride. This weekend meant a lot to me not only did we do it on our own but we went to where I grew up … it was nice riding at home again as I did when I was a little girl growing up….but this time it was on my very own horse….My dreams were made I have everything I ever wanted now.... And once again I thank you from the bottom of my heart!!!
Sheila